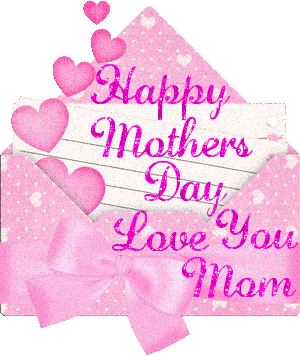 glitter-graphics.com
Fashiona wants to wish all the mothers out there a very Happy Mother's Day....especially her own Mom who is referred to simply as "Mom". Fashiona has many Mom memories that are worth sharing but an ancient one and a relatively recent one comes to mind.
Fashiona has always been the super independent type...she drove herself (on the street) to her friends house at the tender age of 4 in her little toy car. Using her 4 year old logic,she had a car but grown-ups had a bigger car...poor Fashiona was "lost" on the differences between the two.

Skip forward 25+ years to when Fashiona needed to have a surgical procedure done. She had gotten several opinions, scouted out hospitals and decided on a capable surgeon. Fashiona was going to spend a few days at Topaz's to recover and dear Topaz was going to accompany her to the hospital. On the day of the surgery, Fashiona woke up and was preparing to go when she just had to call her Mommy... and the floodgates opened up. All of Fashiona's rules about crying went out the window...she immediately wanted to cancel the surgery and beam herself home like in Star Trek. Mommy let her cry for a few minutes and reminded Fashiona that she was indeed a tax paying bonefide adult and she would be okay....and she was. Surgery went off without a hitch and via cell phone Mommy had to calm down Topaz who was in the waiting room.
So Mom...as grown as Fashiona gets...she is never too old for your soothing voice and warm hug.
Fashiona